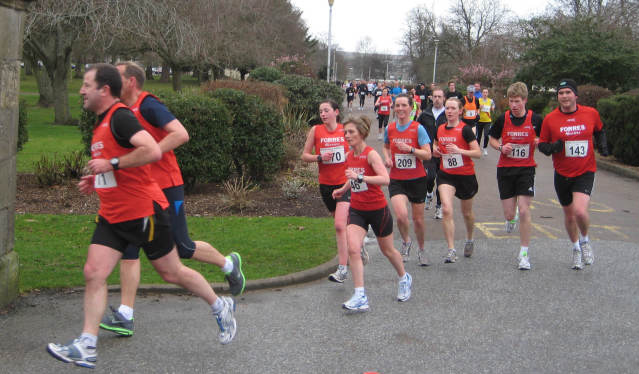 The Northern Scot 10K Series - Moray in Spring
The Series starts with the Nairn 10K which usually takes place the first Sunday in March, followed by the Moray Road Runners 10K in Elgin during April and last but not least our 10K in Forres Mid May. The winners are those athletes who achieve the fastest accumulative time over the three races.
There are 3 different categories:
1. First three overall Male and Female.

2. First three Vets Male and Female.

3. First Super-Vet Male and Female.
If you fancy the challenge why not enter next year. You will be made welcome and there is always a good spread on after each race, which is an ideal opportunity to have a good chat about how the race went and what new injuries you have picked up. On that note how is it no matter what runner you talk to they are never 100% and are always running with one problem or another.
MALE WINNERS
1995

Alan Reid
Peterhead Athletic Club
1996
Ross Arbuckle
Keith & District
1997
Paul Matheson
Forres Harriers
1998
Ross Arbuckle
Keith & District
1999
Dale Woodman
Forres Harriers
2000
Mark Macleod
Inverness Harriers
2001
Paul Matheson
Forres Harriers
2002
Brian Foreman
Moray Road Runners
2003
Brian Foreman
Moray Road Runners
2004
Graham Bee
Fife AC
2005
Kyle Greig
Forres Harriers
2006
Brian Foreman
Moray Road Runners
2007
Darren Wigmore
Forres Harriers
2008
Frankie Barton
Keith & District
2009
Frankie Barton
Keith & District
2010
2011
2012
2013
2014
2015
2016
2017
2018
2019
Paul Rogan
Ben Livesey
Simon Pride
Gordon Lennox
Graham Bee
Kenny Wilson
Kenny Wilson
Gareth Jenkins
James Wilson
Gordon Lennox
Forres Harriers
Forres Harriers
Forres Harriers
Forres Harriers
Inverness Harriers
Moray Road Runners
Moray Road Runners
Moray Road Runners
Moray Road Runners
Inverness Harriers
FEMALE WINNERS
1995

Phyllis Mitchell
Moray Road Runners
1996
Angie Ross
Nairn Road Runners
1997
Angie Ross
Nairn Road Runners
1998
Angie Ross
Nairn Road Runners
1999
Angie Ross
Nairn Road Runners
2000
Mary McIntyre
Dundee Hawkhill Harriers
2001
Jane Ogilvy
Unattached
2002
Jane Ogilvy
Unattached
2003
Jane Barker
Moray Road Runners
2004
Jane Barker
Moray Road Runners
2005
Jane Barker
Moray Road Runners
2006
Jane Barker
Moray Road Runners
2007
Christine Milne
Lothian Running Club
2008
Elaine Whyte
Fraserburgh
2009
Mellisa Whyte
Inverness Harriers
2010
2011
2012
2013
2014
2015
2016
2017
2018
2019
Mellisa Whyte
Mellisa Whyte
Sarah Liebnitz
Jenny Bannerman
Jenny Bannerman
Mary MacIntosh
Carrie-Ann Ward
Louise Cartmell
Grace Whelan
Caroline Marwick
Inverness Harriers
Inverness Harriers
Inverness Harriers
Inverness Harriers
Inverness Harriers
Nairn AAC
Forres Harriers
Moray Road Runners
Moray Road Runners
Inverness Harriers
Northern Scot 10K Series overall Results 2017
Northern Scot 10K Series overall Results 2018
Northern Scot 10K Series overall Results 2019