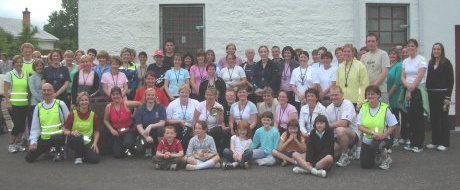 ---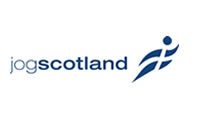 Welcome to the Jog Scotland Group based in Forres. We meet at Roysvale Park during the winter months every Monday at 18:30 and in Grant Park during the Summer months. If you have thought about looking out your training shoes, but have been too apprehensive, why not come along and give it a go. This initiative is open to adults of all ages and abilities and you are most welcome to come along and join the group at any stage.
We promise that there will be no pressure, the emphasis is all about becoming more active in a friendly environment. You will follow a structured training course developed by our qualified Jog Scotland Leaders.
Congratulations to everyone who makes it back week after week. It is always encouraging to see a few more new face amongst the crowd. The Jog Leaders are really enthusiastic about the whole set up and if you can persuade a few of your friends to come along all the better.
Jog Scotland is a partnership funded and supported by Scottish Athletics, NHS Health, the Scottish Executive, and locally, by Sport Moray. The main aim of JS is to improve the health of the Nation, by providing opportunities for all sections of the community to become and stay active. Dozens of groups exist in the Central Belt, Aberdeenshire and the Highlands. We are the first in Moray.
There are progressive programmes, each of 8-10 weeks duration, starting off with BEGINNERS then INTERMEDIATE and ADVANCED. All of the programmes are flexible and can be adapted and interchanged to suit the needs of each grouping. Joggers can move from one grouping to another at any time.
Each week's programme is published below and you can decide which suits you best for a particular week, depending on how you feel. The number of groupings we can have on a Monday night is limited so It is inevitable that some will feel they can 'do more' and others will want to 'do less', but this will sort itself out over time.
If you are wondering what to eat before a session it is not a good idea to come along having just had your tea! at the same time you will need some energy reserves to see you through the session, so a light snack and /or a banana 1 to 2 hours beforehand is probably best but it is very much a personal, trial and error thing.
For further advice or guidance on clothing or footwear please ask one of your leaders:
Alex. Ross 673250 Bev Clark 676299 Maureen McCrossan 673859 Jo Rogan 676595
THE WARNING: please tell a leader if you have to leave the group during a session. We need to account for you all at the end of the night!
Jog Scotland Programmes:-
All Groups - Warm up.
Beginners Group: 25 minute jog
Medium Run: 40/45 mins (6K)
Long Run: 40/45 mins (8K)
All Groups - Cool down.
Forres JogScotland – A Runaway Success!
The Forres JogScotland group, currently the only JogScotland group in Moray, is going from strength to strength since the first budding joggers gathered in April 2006. An impromptu conversation between some members of Forres Harriers, who had turned out to support their team-mates at a cold and blustery cross-country event in December 2005, led to the decision to form a group and give the people of Forres an opportunity to try running in a friendly and supportive atmosphere.
"Returning to Forres after forty years as a race walker 'down South', I joined the Harriers," said Alex Ross. "Whilst reading about jogscotland in PB magazine I thought of the old cliché 'putting something back into athletics' and suggested to some of our fellow runners that we start a group."
"I was always being asked about my running by mums at the school gate – they would wonder how I got started, and how on earth I could run a half-marathon, which for me means being on my feet for two hours." said Bev Clark, "They were keen to start running too, but didn't know how. My friends Jo Rogan and Maureen McCrossan, who also regularly run half-marathons, were having the same conversations too. We thought that if we could offer these people some support to start running it would be really worthwhile. That's why, when we heard about Jog Scotland, we felt it would be perfect for Forres."
So Maureen, Jo, Bev and Alex attended a Jog Leader course in Culloden in March, and set about recruiting joggers without delay. The team agreed to run a group on a Monday evening, starting in the Easter holidays, and set about writing a press release for the local paper and posting posters around the local community, as well as spreading the word at the school gate.
Jo recalls, "We did wonder whether we were doing the right thing by starting the group during school holidays. We knew that some people would be away on holiday, but we thought that on balance we would be starting at a time when more folks have a bit of time to think about doing something for themselves. We expected to see a maximum of 40 people on the first night, so imagine how delighted – and nervous – we were when we found 54 eager joggers in Grant Park, raring to go!"
The group has continued to thrive, with word of mouth and further press articles continuing to encourage new people to join. There are around 60 regular members, men and women, with a wide range of abilities. Many of the members are first-time joggers, some are one-time runners who haven't run for some time, and all have found that running really is for them. The four original Jog Leaders are now regularly joined by Dennis Gregson who trained independently as a Jog Leader, and volunteers from Forres Harriers.
They now lead 3 programmes, from beginners following the first section of the JogScotland Logbook, to the advanced group who head out for a 50 minute run, but all the volunteers are keen to stress that the hard work is very much done by the joggers who turn up week after week. Maureen says, "We have had a fantastic response to our group, and people who thought that they would never be cut out for jogging have found that with the support of a group of people who have similar goals, they can achieve far more than they ever thought possible. They should all be congratulated for working so hard."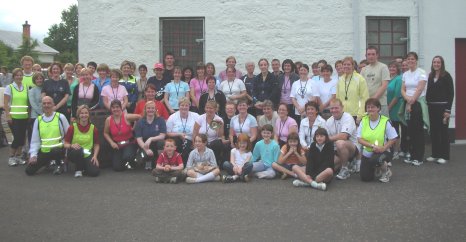 Conscious from their own experience that setting goals is an ideal way of improving your running, the Jog Leaders organised a "timed run" for the group on Monday, 4th September. There were two options: a one-mile race and a 5k, both using part of the Forres Harriers' 10k route. At first, some members of the group were hesitant to sign up for the run, stating that they weren't competitive and that they didn't want to put themselves under pressure. This was exactly why it had been billed as a "timed run" and not a race! However as the date drew near (and rumours started to spread about there being proper trophies and medals and t-shirts!), the entire group started to focus on the event, and 57 group members turned out on the night. The event was a total success, with a closely fought finish over each distance, and each group member taking away a huge sense of achievement as well as their medal. Group member Janice said, "When the Jog Leaders told me that within 10 weeks I would be able to run for 10 minutes without stopping, I didn't believe them. But now, 3 months later, I have just run my first 5K, and I did it without having to walk!"

In fact the event inspired many of the joggers to then participate in the Moray and Dyke 10k races, achieving some fantastic times. Indeed four members of the group are now training for their first half-marathon and will be running in the Inverness Half in February – less than a year after they took up jogging.
The onset of winter has failed to deter the Forres group either, with up to 86 runners turning out come rain, wind or hail. As Dennis said, "I felt sure the numbers would decrease once we moved to the winter programme and the dark damp nights set in, but these people have shown real dedication and self motivation by still turning up each week regardless of the weather. It has amazed me."
The Jog Leaders are delighted with how well the group has gone to date and hope to build on its success with the help of some more Jog Leaders, who are due to receive their training early in the new year. As Alex says, "The response from Forres has been fantastic and jogscotland is clearly meeting a need." In the meantime they are extremely grateful to the valuable assistance of Forres Harriers who have provided a dedicated web-page for the group, the volunteers from Harriers and of course the joggers themselves who help to make the group so friendly and supportive. And Maureen sums up what the Jog Leaders themselves get from running the group: "The satisfaction of seeing how people progress over the weeks makes it really worthwhile."